Hut's Cozy - Crochet booties
---
---
My story of crocheting began three years ago without any experience and knowledge. The orange booties you see on the picture below are my first booties ever made. With a thick yarn and a 6 mm hook I stepped into a world of crocheting and started to experiment - before the booties got their right form I unstitched them a hundred times. So never give up and keep trying!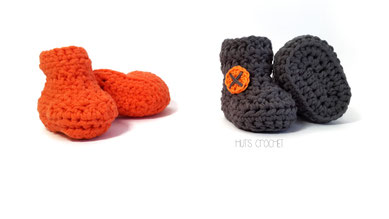 At this point I've decided to create a very special pattern: COZY, SIMPLE, FAST to crochet and appropriate for complete beginners.
Most crochet stitches appear as abbreviations to save space on the written instructions. This pattern contains AMERICAN crochet terms and it is assumed that you are familiar with definitions of special abbreviations, given at the beginning of this PDF-pattern. This pattern is a written tutorial with photos of each step.
Materials:
- 6 mm (J) hook;
- yarn needle;
- stitch markers;
- Gründl King Cotton wool for 6 - 7 mm hook (G: 14S&20R in 4 inches/10 cm) - I used grey, Schachenmayr Catania wool for 2,5 - 3,5 mm hook (G:26S&36R in 4 inches/10 cm) - I used orange.
Stitches:
- Ch - chain;
- Ss - slip stitch;
- Sc - single crochet;
- Sc2tog - single crochet two together;
- Hdc - half double crochet;
- Dc - double crochet; 
- Dc2tog - double crochet two together.
Where can I buy this yarn?
- Grey Gründl King Cotton wool:
Gründl Wolle King Cotton, versch. Farben, 55 % Polyacryl / 45 % Baumwolle (Fb. 18 grau)
- Orange Schachenmayr Catania wool:
Schachenmayr 9801210-00281 Catania orange Handstrickgarn, Baumwolle, 11,5 x 5,2 x 6 cm
---
To VIEW the pattern, CLICK on the picture below. You won't be able to download it.
---
If you like my work, please share it on Facebook, pin it on Pinterest or add it as you favorites on Ravelry or Instagram. Each like, share or pin is an approval that my work is good and appreciated.
Follow me on Facebook: https://www.facebook.com/hutscrochet
---
Photos of Hut's Cozy from crocheters around the world